Hello guy's we are back with new trivia game show app HQ Trivia.
Hq trivia game app is same as Loco,Qureka app. But it is the first kind of trivia apps.
Did you already played the above two games? it is easy to play.
If you people are not played this game before, Don't worry its very easy to play. More than 7 millions people are playing in this app.
Prize money of every game is $ 5000 dollars.
How to download HQ Trivia.
Click on the below link to download Hq trivia app.
Download Now [Android]
iPhone users click here to download this app.
Enter your mobile number,name and referral code to register.
Use our HQ Trivia Refferal Code: HelloD77
By using our referral code you will get an extra life.
After registration, open the app.
you can play game at mentioned time.
How To Play HQ Trivia Quiz Game.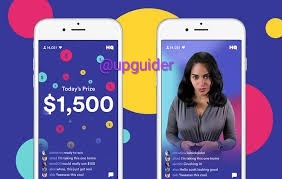 Click on the correct answer within 10 seconds. Otherwise, you are elimited from the game.
You have to answer, all 10 questions correctly.
If you entered the wrong answer you will be eliminated from the quiz.
You can use one life to continue the game. One life per game.
You can't use life on the last question. So, use it wisely.
To get more lives just refer your friends to play.
Game Timings of HQ app.
You can play the game every day at 12:30 am & 6:30 am and in the weekends you can play 3:30 am also.
How to withdraw money from HQ Trivia App.
you can easily withdraw money from app.
If you have PayPal account.
Just you can enter your PayPal email id to withdraw.
Amount will be transfered into your account within 10 to 15 working days.
If you don't have a PayPal account, click here go to create one.
Give your details to open PayPal account.
Then you can add your PayPal email id into the app.
How to win in HQ Trivia Game?
There is no shortcut to win any trivia/live quiz games. But you can win the game if you have enough knowledge to answer those questions. There are many apps available to find answers for the questions. To win, concentrate on previous questions from where they are taken. So keep it on your mind. Some people are using Google voice search to find the answers easily(it should be hardest way to get).
Questions & Answers:
As we know that most questions related to the below categories. Have a look on those.
Sports
GK
Politics
History
Geography
Events
Greatest Persons & their books
Entertainment
Technology & Innovations
more…
Conclusion.
Hq trivia game app successfully running from the past few months and there is no scamming. All users are getting paid. Try your luck today. We have been busy to play, but you can try it now. 7 millions peoples are playing game everyday. Join the HQ trivia app club today.
Share with your friends and family to get more free lifes.