Welcome. We are here with an amazing new app that pays you for your phone calls. The app name is SharkId App. It is a Phone Book App like True Caller. Here are the details of how to earn from SharkId app?
You will earn your first payment in a day with my simple tip.
Heads up! This app is changing their schemes regularly. Please check the latest offer in the app.
SharkId will pay you for making phone calls to friends and family.
It sounds great? Right, They will pay you for your phone calls. Here is how to earn?
Download SharkId Dialler App
Download the latest sharkid app(APK) from play store.
Click on the link to download the app.
Install the app and open it.
Give a click on Get started
Enter your mobile number and verify it.
Your Mobile number should have a Paytm wallet and e-KYC verification to be done.
You are successfully joined.
Make the first call to your friend.
Start Earning.
How to Get Your First Payment on SharkId:
By making 7 calls to your friends.
Here is the way to get your first payment.
Go to Menu

Select Offers/Deals.

Select Call, Refer and earn Banner. In next page
Select Participate in the offer [Must]
Once you participate this offer, you can start calling.
Go to Main Page.
Select dialler pad or contacts.
Make First to your friend, talk about 30+ seconds.
You are done.
Check your call count status on Menu > Offers/Deals > Select Call,Refer earn Image > Paytm Status.

See, there is a call counter to be 1/2. (If your call is counted. wait some time to get updated or Re-open the app).
Make 2 calls and visit the paytm status page to redeem.
Tips on SharkId App(Unlimited Earnings):
As we tested, You can make call from any number(SIM Card) which your phone has.
For example, you registered on the app using a SIM1. You can also use to make calls from SIM2.
You will see, there is a SharkId icon on your dialed number if the app currently working on your mobile.
Wait or Re-open the app to Update Call Counter.
Become a Mayor and earn more.
*Tip* Make all 2 Calls Today. Request a Payment(Instant Payment).
How To Earn/Make Money on SharkId?
There are two ways:
1. Call Friends:
To make money from this app, you need to call any 7 friends through the app. Duration of call should be 30 seconds or more.(40 Seconds recommended). Check out the status and redeem your earnings.
2. Refer Friends:
Refer friends to earn more money. They will help you to make your pocket money from this app. You can earn up to 8 levels by referring friends. Income will keep increasing in each level. Check out the chart.
Here is the chart:

Terms & Conditions:
Need to have internet access while making a call.
You need to maintain call balance in mobile number (they don't provide any balance).
You will be credited for first 7 calls a week(which are validated).
Should make a call from within the app only.
Call duration should be more than 30 seconds is only eligible.
You should have verified Paytm account.
You should have to participate in deals to earn from Invite.
Payment will be made within 72 hours(Instant).
If you have any queries contact through support.
Proof Of SharkId App:
We got a multiple payments from this app. Here is one of our earnings (friends).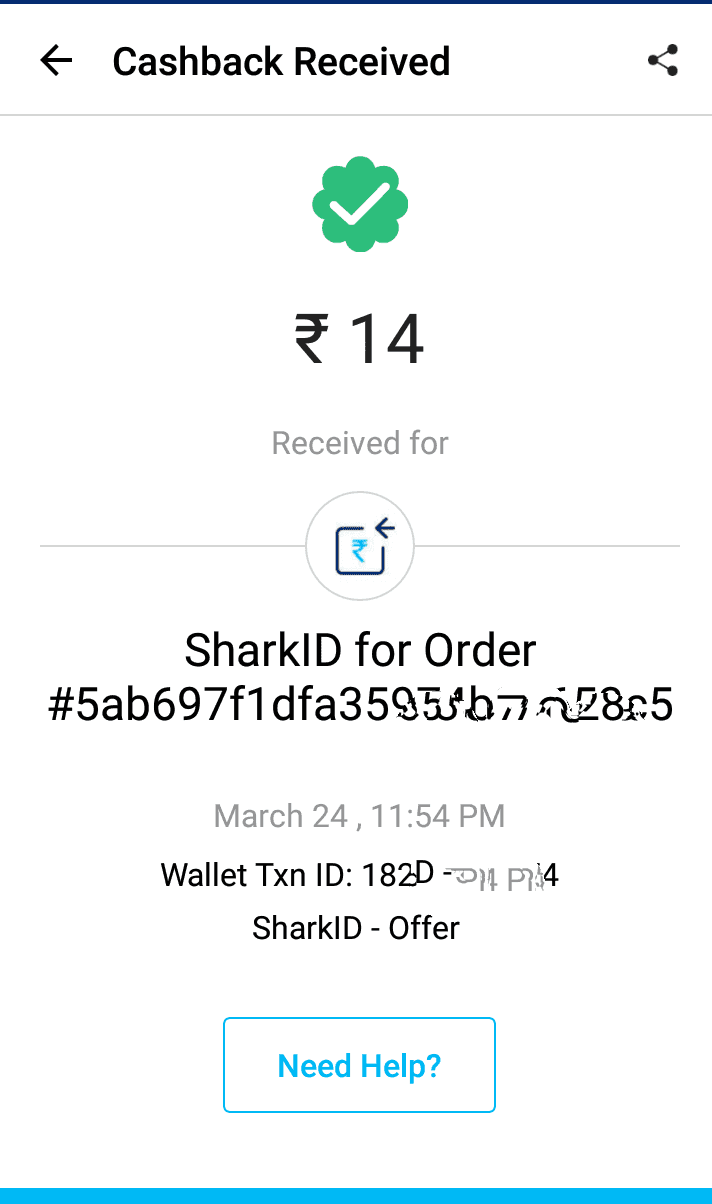 Final Words on SharkId App
You can make up to 12000 income from this app as they stated. So start your journey as soon as possible. Refer your friends and earn more. The payments are guaranteed. We post a screenshot of our earnings soon.
Keep visiting daily our blog or Subscribe us.
All the best.