Hello, Freecharge User(s). Do you want to convert your freecharge wallet balance to your bank account? Then follow the simple steps described below. With this tutorial, you can able to convert your freecharge cashback & wallet's non-transferable balance to the bank account or paytm bank.
Before we go to convert the FC money, we need to have a PhonePe app. With this app only we can convert our FC money to the bank.
Currently, PhonePe app has the option to link your freecharge wallet. (This is only one app offering)
Download PhonePe app
If you don't have an account with phonepe, please create one.
Go below link to download now.
Create an account with your mobile number which had linked to your bank account.
Do remember that, You need to link your bank with the phone by using UPI.
Complete the minimum KYC in the app by proving document number. You can complete easily. Just provide your voter id, Driving License and other documents listed on the app.
Now you need to link freecharge wallet.
How To Link Freecharge Wallet with PhonePe?
Here are the steps how to link?
Select My Account Tab in the phonepe app.
Then select wallets option.
Now you will see the option to link freecharge wallet.
Click on the link. It is available next to the FC icon.
In the next page, Enter your Freecharge wallet mobile number ( is linked to FC & has non-transferable money ).
Then, *Click on Send OTP.
It will automatically verify. It doesn't work? Enter OTP manually.
You will be notified by an SMS also.
You successfully completed this step.
How To Convert FreeCharge Balance To Bank Account?
This is the main step to proceed, be attention while doing this. We should buy gold on the PhonePe app. This is the only method to do without any problem.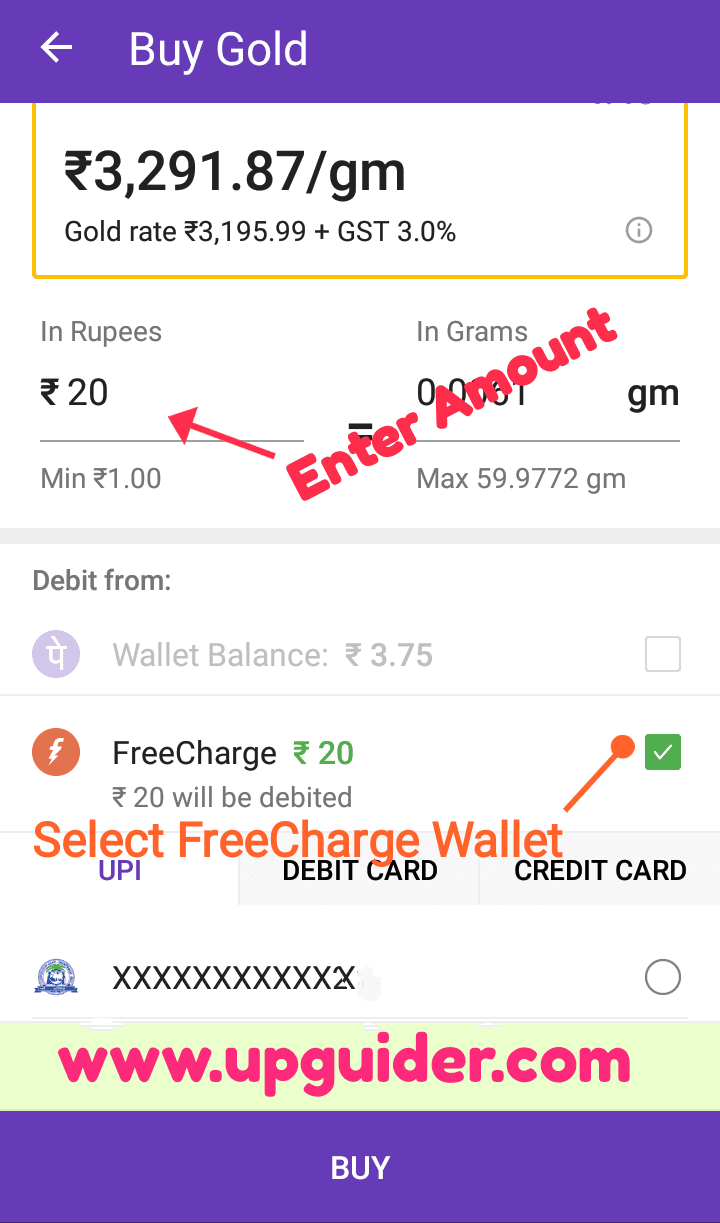 Select Gold option in the phonepe app menu.
Enter Amount in the box or gold weight in mg.
Select the FC wallet as shown in the image.
After, you did just Click on the Buy button.
Done. Now you completed half of the process.
Now, you need to sell the gold brought with FC balance.
wait for one day to Sell the gold.
Next day, Sell all the gold you have in your locker.
Congrats, your FC balance now credited to bank account.
*wait a minute to get notified by the bank.
Conclusion
Sometimes it may get the delay. It may take up to 72 hours to process. Don't worry your money will be safe. I did this whole process 5 times till now. I converted my 500 cashback till now through this method.
If you have any suggestions, problems. Ask me. Or comment below.